Fisher Street, Newcastle - Permanent Soil Nail Wall
Byland Engineering Limited has recently completed the design of a 10m high by 200m long 65° permanent soil nailed wall at Fisher Street, Newcastle for specialist sub-contractor A & J Geotechnical.  The permanent soil nail wall supports Fisher Street along the western boundary of the site, allowing the commercial development of a one-hectare site, as part of the Neptune Energy Park Project for Newcastle City Council.
The ground conditions comprised Made Ground and Glacial Till over the retained height, with a 2m thick layer of weaker Laminated Clay below the toe of the soil nailed wall.  The detailed design of the permanent soil nail wall was undertaken in accordance with BS 8006-2 (2011) using the Talren V5 soil nail design computer program.  The geotechnical design parameters were carefully established from the site investigation data, including in-situ and laboratory test data, and the soil nail 'geotechnical' ground to grout bond stress was validated by a series of preliminary sacrificial soil nail pull-out tests in advance of the main works.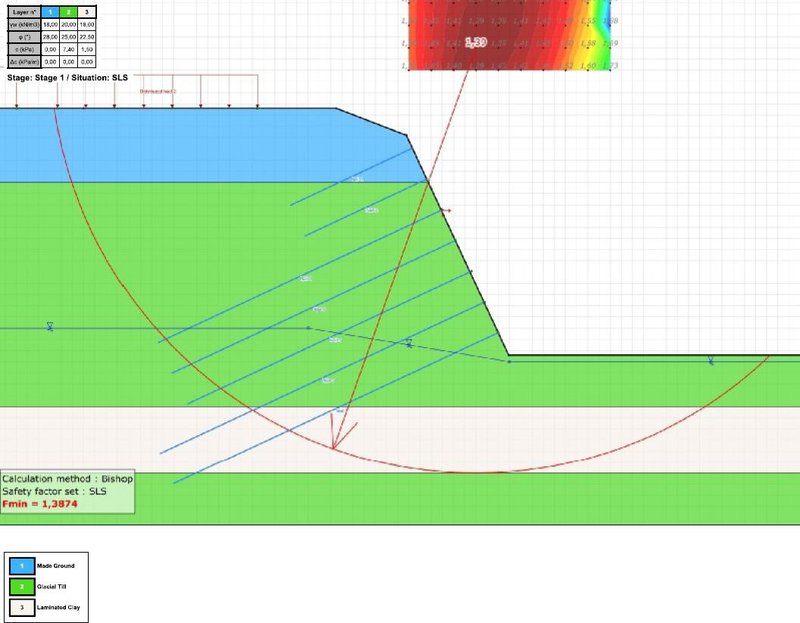 Fisher Street - Talren Analysis
A total of ~1,000 No. x nominal 100mm Ø galvanised self-drilled grout-flushed soil nails were installed on a 1.25m horizontal x 1.37m vertical spacing based on a diamond layout in an incremental top down sequence. The soil nail lengths ranged from 6m to 16m and were installed at 25° declination, i.e. perpendicular to the cut slope. The permanent soil nail facing comprised of 150mm deep stone filled mesh baskets which provide an aesthetic semi-rigid and permeable facing, with minimal maintenance and is more cost effective than more traditional hard (shotcrete) facings. Initially, the rear mesh complete with geotextile fabric behind is installed tight against the cut clay face to prevent any fines being washed through. This was undertaken as soon as the soil nails were installed to provide temporary slope stability as the excavation proceeded. Then, upon completion of soil nailing works and reaching the toe of the slope the front 150mm deep permanent gabion baskets were constructed and then carefully filled with stone.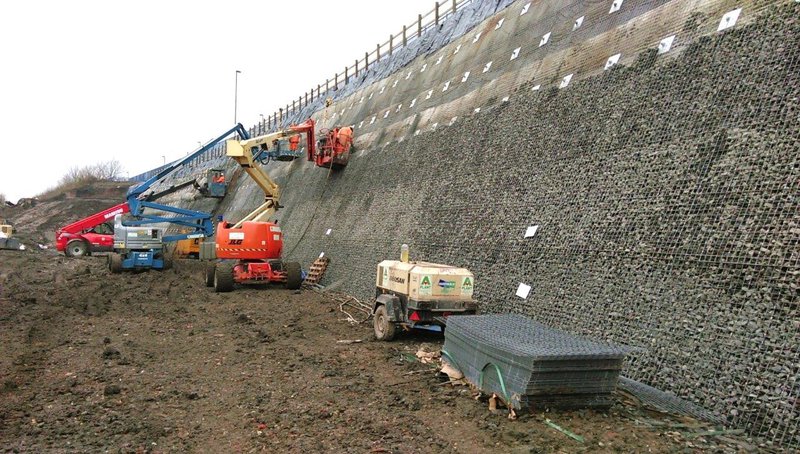 Fisher Street - Filling of baskets with stone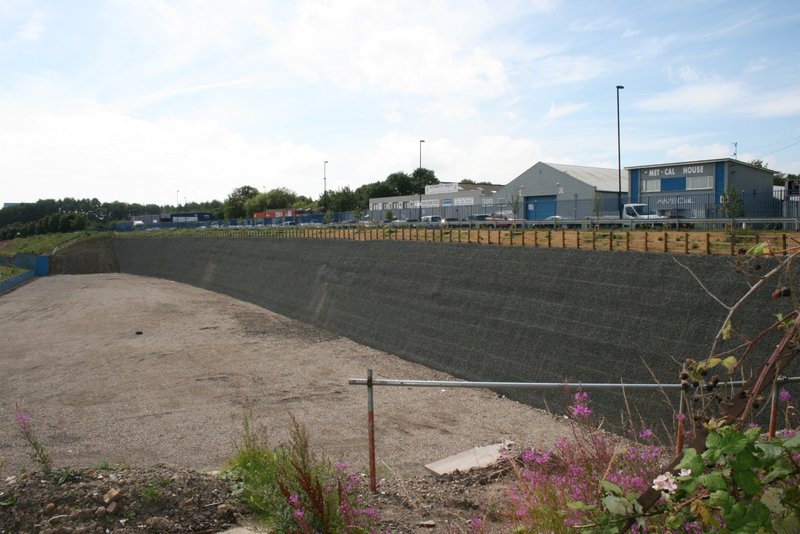 Fisher Street - Finished Soil Nail Wall
The works started in November 2015, at the beginning of the wettest winter for over 100 years which made the soil nailing challenging at times, nevertheless the wall was successfully completed in March 2016.
Long term monitoring of the wall crest indicates lateral and vertical movements of 20 to 30mm, which is typical for this type of structure.
Mr Stephen McClean, Contracts Manager (Lumsden & Carroll) made the following statement in an email dated 13th May 2016 'I would like to take this opportunity to thank you for your efforts on what was a challenging project yet ultimately now a successful scheme'.